Kendal Dark by Gawith & Hoggarth
Details

Veröffentlicht: Samstag, 07. Oktober 2017 08:00
Geschrieben von Deniz Beck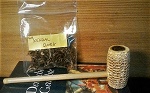 Gawith & Hoggarth… a house known for countless rope tobaccos, Lakeland mixtures and also their "Kendal" blends. Sadly unavailable in Germany, I was lucky to get ahold of a sample of some of their ropes and mixtures.
Glorious Kendal tobaccos...sadly unavailable in Germany
They only offer their "Samuel Gawith" blends in Germany, but none of the famous Gawith & Hoggarth "Kendal" tobacco. As the package from my UK friend Paul arrived with my repaired and refurbished pipe, along with some other goodies and pipes, I was excited to try the samples that were laying next to it. As I'm writing this review I already delved into the world of Gawith & Hoggarth tobaccos and must admit that I consider myself a fan of their blends! Not only for their excellent ropes, but also for the countless, superb Kentucky(-forward) blends.
Inside the sample baggie there's a shag-cut of dark-brown, partly almost black tobaccos with few brighter, orange-yellow speckles inbetween. "A mixture from dark fired Malawi (Burley) and air cured Indian tobacco (Virginia)" they describe this blend. The Burley obviously prevails in this mixture.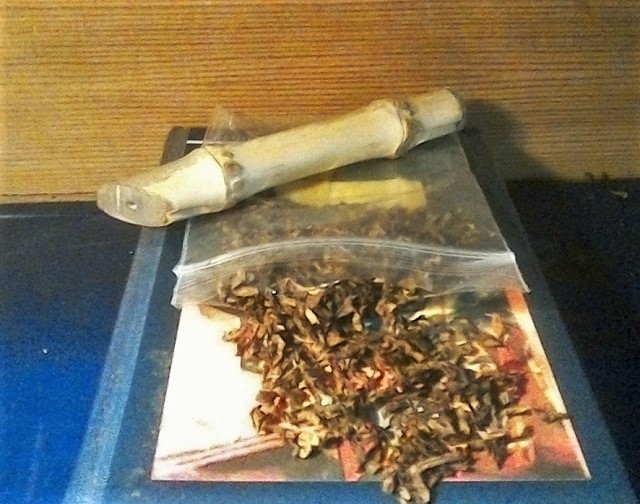 Intense colors, fine cut, natural aroma...Kendal Dark! 
Dipping my nose into the bag got me interested…because the scent is quite inconspicuous and natural seeming. Some smokiness, some earthy-nuttiness…but really very mild scent, that seems to be quite natural. I decided to try my first bowl of this in one of the Corn Cobs I got granted with the repaired pipe and samples. Packing is a breeze, the tobacco is very thinly, ribbon-like cut. Pulled them a bit apart and packed a bit more form than I usually do, to prevent the bowl from burning too fast due to the cut. 
Full-bodied and bold Burley-goodness
Kendal Dark's aroma is full-bodied, and dominated by the Burley. Smoky-wood, and some decent earthiness to it are the star players here. Enhanced by a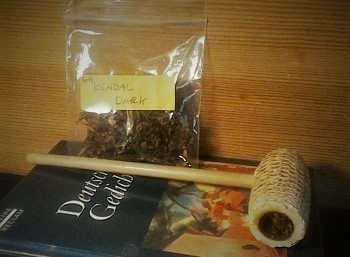 delicious nuttiness, and a minor sweetness. To me, the Virginia are just sporting the minor sweetness that's present and a slightly refreshing citrusy-sourness, to not only for flattening the edges of the bold dark fired Burley, but also to add another dimension and keep it from being boring.
Not too much depth in this blend, but I guess depth isn't what one is looking for when smoking a Burley- or Kentucky-forward blend. This is just good, honest and full-bodied tobacco, that's said to have a very mild nutty flavoring to it. If a flavoring is apparent in this, it's extremely mild and blended in a way to only enhance the Burleys natural characteristics.
Progressing through the bowl, the nuttiness intensifies towards the second half of the bowl and settles the flavor-profile as being "Smoky, woodsy, nutty-sweet".
Best to smoked slowly, as this baby can burn fast (due to the cut) and bite if pushed too hard. Firm packing and slow cadence will reward you with intense and rounded aroma of bold Burley-goodness.
Kendal Dark, due to the nature of dark fired Burleys, does have some strength to it and is satisfying to the Aficionado of full-bodied Burley and/or Kentucky blends, but may be overwhelming to pipe smokers who prefer mild(er) smokes.A wonderful blend that makes me curious and excited to try more blends from the Kendal series! I'll be reviewing more of the samples I got granted (mostly G&H, some C&D, GLP).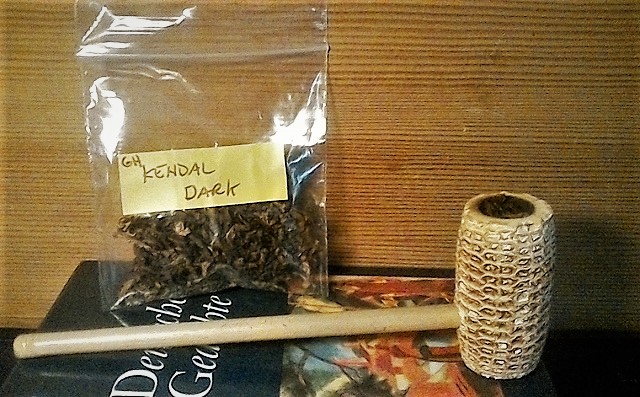 A full-bodied blend of Burley-goodness...bold flavors and strenght! 
Ratings
Strenght: 4.5 out of 5 points
Taste: 4 out of 5 points (full-bodied, rich Burley aroma)
Flavoring: 1 out of 5 points (extremely mild nut flavoring; just underscoring the Burleys natural aroma)
Room-note: tolerable to strong (spicy, tobacco-y, but not sweet)
Explanation of ratings:
1 – very mild;
2 – mild to medium-strength/mild to medium;
3 – medium-strength/medium;
4 – medium-strength to strong/medium to full
5 – strong/(very) full

 Useful links:
General information on Tobacco-Reviews/ Previews (German)
Text und Photos © 2017 Deniz Beck